inquirED offers curriculum-based professional learning that integrates high-quality instructional materials, instructional leadership, and professional learning communities to help teachers develop their practice of inquiry and culturally responsive instruction.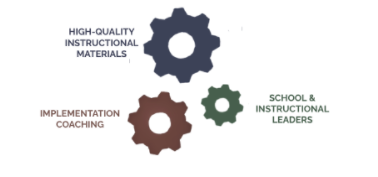 High-Quality Instructional Materials
Research shows that high-quality elementary social studies curriculum and instructional materials have a significant impact on improving outcomes for students. Not only is Inquiry Journeys standards-aligned, but its lesson plans also provide accommodations, accelerations, teaching notes, and more, giving teachers the tools they need to reach all learners. From articles to videos, Inquiry Journeys saves teachers valuable time by providing accurate, engaging, and diverse sources to support investigation. Formative assessments are included in every lesson. Interim and summative assessments help to check understanding after sustained investigation.
Implementation Coaching
Inquiry Advocates meet monthly with inquirED Implementation Coaches to discuss successes and challenges. Within coaching sessions, Inquiry Advocates have an opportunity to connect and collaborate with each other, forming a professional learning community. We hope they will be able to apply the learning from these sessions to develop similar partnerships with the teachers they support.
Inquiry Advocates can find useful online resources within the Inquiry Advocate Toolbox, which is located under the PD & Learning tab within the platform. Inquiry Advocates can also reach out to their inquirED Implementation Coach any time for more customized support and thought partnership.
School and Instructional Leaders
inquirED facilitates an onboarding for school leaders that focuses on how Inquiry Journeys supports teachers and students and the important role that school leaders can play during implementation.
School leaders looking for help with implementing Inquiry Journeys can connect with their Inquiry Advocate, someone from their own school or district who provides on-the-ground support. School leaders can find useful online resources within the Leader Toolbox, which is located under the PD & Learning tab within the platform. School leaders can also contact our support team with any questions by emailing support@inquired.org.